Have you recently bought an OTG Oven? Well, it is always quite very difficult to use a new device. Be it a new mobile phone or new cooking equipment, I mean an OTG Oven.
Well, congrats to you on your new OTG, you can begin your baking journey as well now. In case you haven't bought one yet, check out our OTG Oven buying guide.
In this article today, we are going to learn how to use OTG Oven for baking for beginners. These are some of the most crucial OTG baking tips that you must know. Let's begin.
How to Use OTG Oven? (A Beginner Guide)
Starting with the basics, an OTG Oven has 3 knob controls that you can use to set your OTG for different cooking, heating, or baking purposes.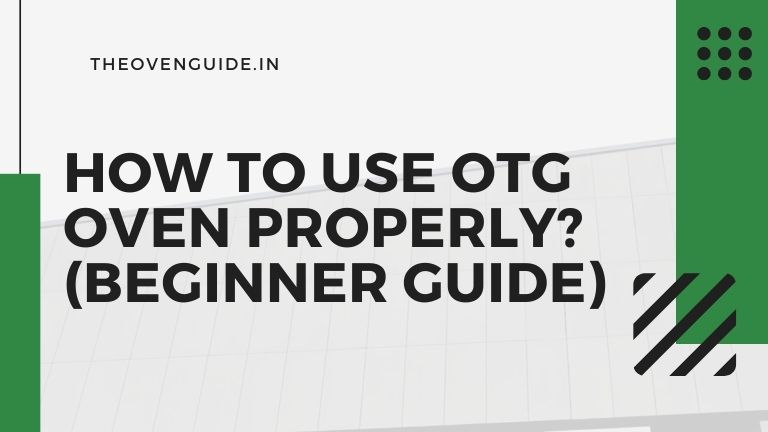 From expensive OTGs like the Morphy Richard OTG Oven to affordable options like Agaro Marvel OTG Oven, all the OTGs have these basic options.
These 3 knobs are for 3 essential cooking things like Temperature Control, Function Knob, & Time Control. All of these combined with your OTG cooking skills can bring delicious recipes to the plate.
Most OTG Ovens have the option to set up to 250 degrees celsius. I have talked about it a lot of times already. Especially for baking, 250 degrees celsius is the appropriate temperature that you must set while baking cakes at home.
Just like convection microwave ovens have a lot of function controls, these days OTG ovens also come along with various function control options. Most OTG ovens have multiple heating rods, using your function control knob, you can choose which heating rods to take into use while cooking your recipe.
You already know what this is, Timer control is the setting that you can use to set timers for turning on and off your OTG. You can use the timer control option to automatically shut off your OTG after a certain period of time, even when you're not in the kitchen. This option is essential so your recipe does not get overcooked or your cake does not get overbaked.
Now you know the control parts of OTG, let's now understand how many types of trays are there in an OTG, and what are essential OTG accessories that you must have in your kitchen.
Baking Trays are the most important component that you will need while using your OTG for baking purposes at home. If you have never ever baked before, I highly recommend you to check out our baking tips for beginners guide so you have an idea of how to use the OTG for baking.
Crumb trays are basically the cover plates that are used at the bottom of the OTG so that even if any crumbs or overbaked pieces fall out of the cooking container, you can easily clean them off from the tray. This protects your OTG oven bottom from getting dirtier. If you don't do so, you'll have to clean your oven after each usage. So you must always use a crumb tray at the very bottom.
Grill racks are another very important part of an oven. Not just OTG, but in any kind of refrigerating, heating, or cooking equipment. You use these grill racks to place your container upon them so your dish gets properly cooked from all the sides. This lets you easily distribute even heat throughout the container so you get the perfect results.
Cooking in an OTG oven can be a difficult task for you if you have never done it before. But thanks to our informative tutorials like these, you can easily start your OTG baking journey by reading our guides.
Even if you do not have an OTG yet, you can get one by reading our OTG review guides on our website. I hope now you have learned how to use OTG oven for beginners. For more detailed oven info, please keep visiting The Oven Guide!