Are you researching online to find out whether Wonderchef is a good brand to trust upon for OTG Ovens in India? Well, this guide is just for you as it is a complete detailed Wonderchef OTG Review.
We have a complete guide on our website if you are searching for the best OTG oven in India. In that particular guide, we have listed all of the best OTG models available in India in each price range.
Today we are especially going to take a look at what Wonderchef has to offer to our Indian OTG market. To give you a quick answer, Wonderchef has some of their best seller models for budget segment OTGs.
In short, Wonderchef has some really wonderful OTG Ovens in their collection for mid-budget segment people who are looking to purchase an OTG. Let's discuss in detail about all the Wonderchef models that are available in the market today.
Wonderchef OTG Review - A Complete Guide
We reviewed the best wonderchef OTG ovens and here are our opinions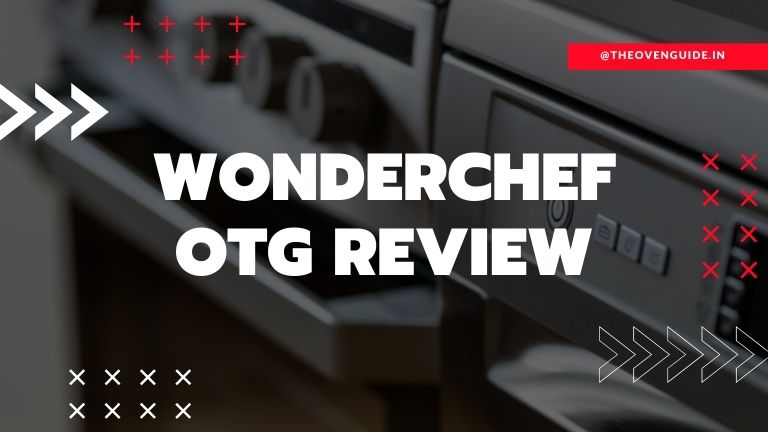 Wonderchef is a reputed OTG brand in our Indian market. What makes it different from rest of the other brands is that you get specially customized recipes along with your appliance curated by none other than our Indian famous chef Sanjeev Kapoor.
You can read their recipes inside the recipe book provided to you, also you can follow their dedicated social media profiles to stay updated with his content. But to follow that, you must know how to use an OTG Oven. Don't worry just go through our beginner guide for that.
Not just that, wonderchef has dedicated mobile apps too that contains easy recipes for you to try on your new oven. Anyways, let's get back to the topic now, here are all the best selling Wonderchef OTG ovens that you can buy for your home.
1. Wonderchef OTG 9 Ltr Review
Here is the most affordable Wonderchef OTG 9 Ltr Review
Beginning the list with one of the most affordable Wonderchef OTG Ovens in India. The Wonderchef OTG 9 ltr variant can be a good choice if you're looking for a small oven for normal heating/reheating food purposes.
This little red color OTG looks really pretty on the kitchen slab and does not even consume much space. You will not have to buy a dedicated rack to place it inside your kitchen.
It comes with 2 years of warranty and runs on 650W so it does not consume much power as compared to other OTGs on the same price bracket.
At such a lower price, the features you get inside this OTG are worth the money. You get daily use features like auto-shut off, heat resistant glass, multi-stage heat selection.
As it has a special heat resistant tempered glass, you can stay assured that you will never burn out your hands accidentally while cooking with this OTG.
If you're looking for a little cute OTG that can fullfill your basic oven needs like baking breads, cooking roti, heating food, etc. This is surely the best wonderchef OTG that you can buy.
Type – OTG Oven
Capacity – 9 Litres
Warranty – 2 Years
Special Feature – Heat Resistant Glass
Power Consumption – 650 watts
2. Wonderchef OTG 19 Ltr Review
Here's the best selling Wonderchef OTG 19 Ltr Review
The Wonderchef OTG 19 ltr is the best selling wonderchef OTG in India. Yes, the 19 litre variant is the most loved choice by our Indian consumers.
The problem with other variants is that the above 9 litre variant is not suitable for cooking for multiple guests while other higher variants like 48 litre & 60 litre that we are going to discuss next in this list are too costly and take too much space inside the kitchen.
Considering that though in mind, Wonderchef 19 litre otg is the best otg in India for home use. You can easily use it for all purposes including baking cakes & cookies at home.
You can set the temperature level using the knob upto 250 degree celsius which is a recommended temperature to set especially for baking.
Talking about the features, this variant also have all the same features like the 9 litre variant. You have auto-shut off, heat resistant glass, & multi-stage cooking as well.
In addition, you get 3 knobs to control this OTG whereas in 9 litre variant you get only 2. Here with 3 knob controls you can easily set temperature, time & heat mode as well.
Inside your OTG box, you also get a few additional components like tray handle, baking & grilling trays & chrome wired rack. For it's price point, it is the best OTG in India by Wonderchef brand that you should definitely consider choosing.
Type – OTG Oven
Capacity – 19 Litres
Warranty – 2 Years
Special Feature – Heat Resistant Glass
Power Consumption – 1280 watts
3. Wonderchef OTG 48 Ltr & 60 Ltr Review
Looking for something big? Check Wonderchef OTG 60 Ltr Review
The Wonderchef 48 ltr & 60 ltr OTG Ovens are a good choice if you need a huge OTG either for a bakery shop or for a huge joint family for daily usage.
If you run a PG, hostel or a cloud baking kitchen where you need to bake or cook for various people at once then you can go for this Wonderchef 60L OTG model.
The 48 L capacity can also be a good choice, just go for whichever suits the best for your requirements. The thing is both of these variants have the exact same features.
Wonderchef 9 ltr & 19 ltr OTG ovens are very affordable OTGs and hence they lack features like rotisserie. But in both 48 & 60 litre variants, you get rotisserie functionality which you can use to cook chicken, kebab & all other barbecues at home.
Else, both these OTGs have all the features like auto-shut off, heat resistant glass, timer. In addition, they have over 6 different heating modes that you can select as per your preference while using OTG.
These OTGs are very enough to bake 1-5 KG cake for bakery shops. The temperature can easily go upto 250 degree celsius to give you excellent baking results everytime.
You can use the convection mode feature to make sure your baking goes evenly from all the sides of the cake. For the price point, both 48 ltr & 60 ltr Wonderchef OTGs are definitely a great choice that you can buy.
Type – OTG Oven
Capacity – 48/60 Litres
Warranty – 2 Years
Special Feature – Rotisserie
Power Consumption – 2000 watts
Should you buy Wonderchef OTG Ovens?
Are there any other brand OTGs better than these?
In case you are still in final doubt should you buy Wonderchef OTG Ovens or are there any other brand OTG models that you can buy at similar price point, let me make this clear for you.
Well, at each price segment, all of these Wonderchef OTG ovens are a good choice that you can go with. Still if you are looking for more options, here are our recommendations for you for each price segment.
Well for 9L category, you can read this Prestige 9L OTG Oven review. But in my opinion, Wonderchef 9L OTG is far better choice than that.
Similar around 19L category, you can choose either Agaro OTG Oven or Philips OTG Oven. And for 60L variant, we highly recommend you to read our Morphy Richards OTG Review.
Wrapping up the guide, here's what we conclude
Wonderchef is a really good brand that competes in the Indian OTG market segment with their competitive pricing to other popular brands.
Especially the Wonderchef 19L OTG model is one of the best selling OTG ovens in India for that price range. We also gave you complete overview for the 9 ltr, 48 ltr & 60 ltr OTG variants.
Let me know was this Wonderchef OTG Review helpful for you or not? Which OTG Model are you going to buy? Did we missed out on something in this guide? Tell us in the comments below!