Science and technology are reaching new heights, we see new cooking tools and equipment getting born every other day. Air Fryer vs Microwave, which one is better?
That is what you're trying to find out right? Well, keep reading because today we are going to have a discussion on the same. Cooking has evolved a lot. Those traditional cooking techniques are no more in existence.
We regularly see new gadgets getting launched day by day. Earlier when microwave ovens were very popular, nowadays Air Fryers are getting that same fame.
But is it really worth it? What is the difference between Air Fryer and Microwave?  Which one will be worth buying for you? Here is all you need to know to choose the correct one from both.
Or if you have already made up your mind to go with a microwave oven, don't forget to read our well-researched review guide on the best convection microwave oven in 2022.
Air Fryer vs Microwave Oven - Understanding the Difference
Almost every kitchen these days have a microwave oven. But Air Fryers are also getting popular these days. Here's a simple difference between them both.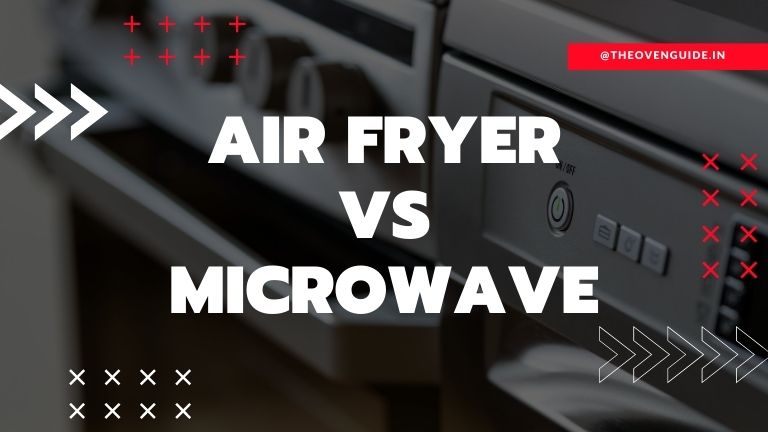 Basically, an Air Fryer is a small little cooking appliance that lets you cook and fry food with very little oil involved. It is a modified countertop convection oven. It contains a heating system at the top which also does have a fan to evenly spread the heat in the appliance. Whereas, a microwave oven is a large appliance in which you can cook, fry, roast, defrost, bake and do all other cooking experiments. It can do a lot more than an Air Fryer.
To have a better understanding of Air Fryer vs Microwave, let's compare both of these cooking appliances on the basis of some different technical aspects.
Air Fryers work on a very simple heating mechanism where the heating element is at the top of the appliance which rushes down the heat on the food below it. It basically works on the convection principle where heat is spread out to cook the food.
Whereas a microwave oven is an a lot more advanced appliance that works by heating the molecules using microwave radiation technology. Modern convection microwave ovens have a fan installed inside the oven to spread the heat evenly.
Both of these heating mechanisms result in cooking crispy and amazing fries.
Obviously, everybody knows microwave ovens are bigger and larger as compared to Air Fryers. But what differences does it make? What limits does it put on the Air Fryers?
Well, as convection ovens are big you can cook more food at once as compared to the Air Fryers. Air Fryers are really good for doing things like French Fries.
You can also cook and fry other things but there is a cap on the quantity. Whereas on the microwave ovens, you can cook for your whole family of 3-5 members at once.
It is a personal preference to choose the one. But if you can afford it, go for a microwave oven. Instead, if you already have a microwave oven and you need some other little ready to move the appliance, Air Fryer is for you.
Electricity consumption is one of the major things one must look to compare two different machines. Generally, Air fryer consume less power as compared to microwave ovens.
Air Fryers are smaller and compact in nature in comparison to ovens, so they consume very little power. In the standby mode, they do not even take any power.
Whereas, microwaves still need some energy to stay in stand by mode. So what we conclude is that microwave consumes more power than Air fryers. It's pretty obvious too.
If you think you just need a heating machine for little purpose, Air fryer is a good option. On the other hand, a microwave oven is still the best choice and is something that every kitchen must-have.
Which one is for you? Air Fryer or Microwave?
It's time to discuss what you came here for. Which one will be a better choice for you? An Air Fryer or high-end convection microwave?
Well, if we look closely air fryers are just made for small kitchen tasks like cooking french fries, boiling eggs, etc. But on the other side, a convection microwave opens up a lot of doors for you.
To answer which one will be a better choice for you can be different for each and every one of you. Ask yourself, what are your requirements? Why are you comparing Air Fryer vs Microwave?
If you just need to do simple tasks, go with an Air Fryer. Not only it'll be a good choice for you but also it'll save you your hard-earned bucks.
But if you want to experiment with all your inner crazy cooking recipe ideas then you must opt for a convection microwave oven. From baking cakes & cookies at home to roasting chicken leg pieces. You can enjoy trying every recipe that you love watching on the Internet.
I hope you got it very clear and can now choose which one will be a good choice for you. Just go for a microwave if you need advanced features else you can choose an air fryer for basic recipes.
Here are two of the best models that you can consider in your research. Both of these models are best sellers in their categories.
Air Fryer and Microwave Oven are both very advanced cooking tools. Having these cooking gadgets in the kitchen has upmost become essential these days.
Both these machines really make a significant difference as they help to reduce a lot of manual cooking efforts. At last, all I would suggest is that you must choose the best by yourself researching enough.
If you have decided to go with a convection microwave, you can read our comprehensive convection oven buying guide. Out of which IFB 30BRC2 is the highly preferred choice for most of the consumers.
For Air Fryers, please prefer to read the features and specifications of the models to compare different models. That would help you in choosing the best product for you.
I hope I helped you in differentiation Air Fryer vs Microwave Oven. If it was helpful, please consider sharing it with your mates. For more informational posts, please subscribe to our notifications.