Are you getting confused to choose one from LG vs Samsung Microwave Ovens? Yes, definitely both of these companies have some amazing options to choose the best convection microwave in 2022.
People often get confused about which brand to choose, which model to buy. Well, just keep reading because today we're going to make it crystal clear for you to make the correct choice.
If we look closely, LG and Samsung both are amazing brand options to consider while looking for a microwave oven.
But looking at the price segment, LG has focused more on products ranging at the mid-high segment. This includes high-end convection microwave ovens like LG 32 L MC3286BRUM.
Whereas, Samsung has some best-selling models at the very affordable price segment such as the Samsung CE1041DSB2/TL. It is also a convection-type oven but much cheaper and compact in design as compared to the LG one.
Also, both of these brands have various options in the solo and grill microwave category too. It was just a basic glance to give you a quick overview. Now let's study more and find out the differences between LG and Samsung Microwave Ovens.
LG vs Samsung Microwave Oven - Brand Overview
LG is a very popular South Korean brand that began in the year 1947. During its early phase, it got popular as Lucky Goldstar. Soon it got rebranded and now all of us know how their machines make our 'Life's Good'.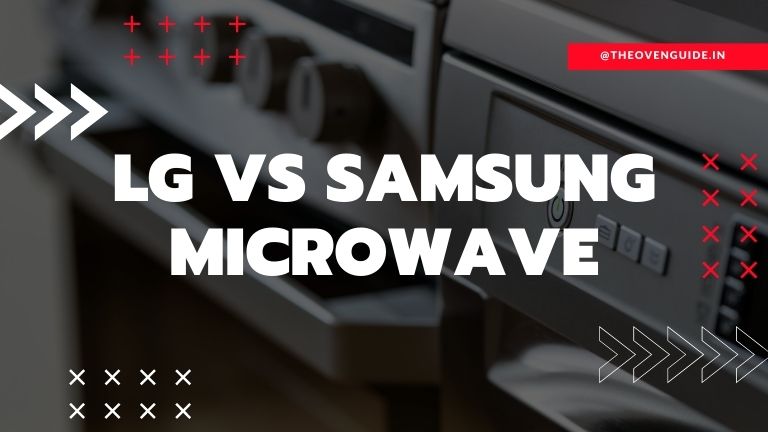 No doubt LG is a very popular brand and holds some hardcore audience in the Indian Market. They have a variety of amazing microwave ovens with some fascinating features inside them. Here is our well researched guide on the best LG convection and solo microwave oven in India.
On the other side, Samsung began in 1938 and stepped into the electronic market in 1969. I don't think so we need to talk much about Samsung.
All of us know how popular Samsung is in our Indian market. We all have used those Samsung Duos smartphones in the early phase, right?
In the microwave oven sector, Samsung has a lot of options to choose from for the low-budget segment. Be it solo, grill, or convection microwaves, you get various options to choose from.
This was a basic brand overview of both of these best microwave oven brands in India. Let's look at which microwave models you can consider purchasing from these brands.
LG and Samsung Microwave - Which models to buy?
Whether you're looking for solo, grill microwaves, or even a professional convection microwave. Both of the brands have a variety of options to choose from in each category. 
Let's begin with solo microwave ovens, LG has a 20 L model LG MS2043DB. It is quite good in terms of features around its price range. It has another upgraded variant with a flower pattern called LG MS2043BP. You can consider these models if you want to go with the LG brand.
Samsung on the other hand have a couple of amazing choices in the solo microwave category. You can consider the Samsung 23 L Solo Microwave MS23F301TAK/TL. It is one of the best-sellers by Samsung. If you need more options, you can check out them in our solo microwave guide.
In the grill microwave category, LG has a good choice that you can consider. The LG 20 L grill microwave LG MH2044DB comes with a starter kit and is definitely worth its cost.
Whereas, Samsung does not really have many good options in the grill segment. If you are looking for a grill microwave oven, you must read our best grill microwave oven buying guide once. It will definitely help you choose a better product for you.
Finally, when talking about the convection microwave section. Both Samsung and LG have too many amazing options to purchase.  LG leads the convection microwave oven category because of its 32-liter convection microwave LG MC3286BRUM.
It is considered the best microwave oven in India. LG has compiled each and every feature you need inside this microwave.
Be it, roti maker, rotisserie, Indian Recipes, and the list goes on. However, it is priced around the mid-budget segment so above Rs. 15,000 might be a strict one for most of the consumers. 
But if you can afford this one, just go for it there is no other better model available under the same price bracket. Consider reading our LG MC3286BRUM detailed review to have a better understanding of this device.
Samsung in the convection category has more products ranging in a very comfortable price bracket. Most consumers like you can easily afford the Samsung convection oven as they have made their models considering medium-budget people like you.
For e.g, this Samsung 28 L convection microwave oven is one of the best choices you can ever make if you have a budget of somewhere around Rs. 10,000. We have published a detailed review of this oven. Here is the link to read the article.
Not just this one, it also has a couple of other good options under the same price bracket, you can look over those models too to check out their features as well.
Ceramic Cavity vs Stainless Steel
One more thing people get confused about is which is better, ceramic or stainless steel microwave? LG models come with stainless steel built-quality. Whereas, Samsung focuses and highlights its latest ceramic cavity.
Basically, Stainless Steel cavities are a good conductor of heat which results in faster and better cooking. It is also good in terms of safety as it does not let the microwave radiation leak.
On the other hand, a ceramic internal cavity is very easy to clean but in comparison to steel, it is not that good conductor of heat. So the heating takes time which definitely affects the cooking time as well.
Ceramic cavity has its own benefits as it does not take so much time in the cleaning process as compared to stainless steel. But steel has its own benefits as well as it does not hold you back in the kitchen and makes cooking very faster.
It's up to you which one you choose. Modern Samsung 28 L convection microwave ovens also come with the ceramic interior but it has some advanced features which overcome the problem of the longer heating issue as well. This microwave does not really take noticeable time and is built with a ceramic interior as well.
LG and Samsung, both are considered the most trusted consumer electronics brands in India. In the microwave ovens sector too, they lead with their top models in the industry. We tried making things easier for you to get. So here is what we conclude out of our experience.
If you are looking for a solo microwave, you can go for the Samsung brand. The models listed above in the article are the best-sellers. We all know, majority wins and in the solo microwave section, Samsung takes over the LG for sure.
For the grill microwave section, we do not recommend going with any of these brand's products as there are not many options. But still, you can look at the LG model we listed here. Else, you should read once our grill microwave guide for it.
Inside the convection microwave section, Samsung has the best-selling product under the price segment of Rs. 10,000. Whereas if you have a good budget to spend over Rs. 15,000, we highly recommend going with the LG models.
Hope this article helped you to have a better understanding of which one to choose from LG vs Samsung Microwave Ovens. For more microwave oven-related queries, subscribe to our notifications. Thanks for reading! See you in the next one.