So you went shopping for an oven online and now confused about which one to choose from IFB vs Samsung Microwave Oven. Definitely, both of these brands are leading the market for best convection microwave oven in India 2022.
But which one should you go with? Which microwave is better IFB or Samsung? Hold on, keep reading because today we are about to have a deep discussion on it.
A microwave oven is a very important kitchen tool that can not just help in cooking but can also save a lot of your time. There are countless uses and functions of a microwave oven.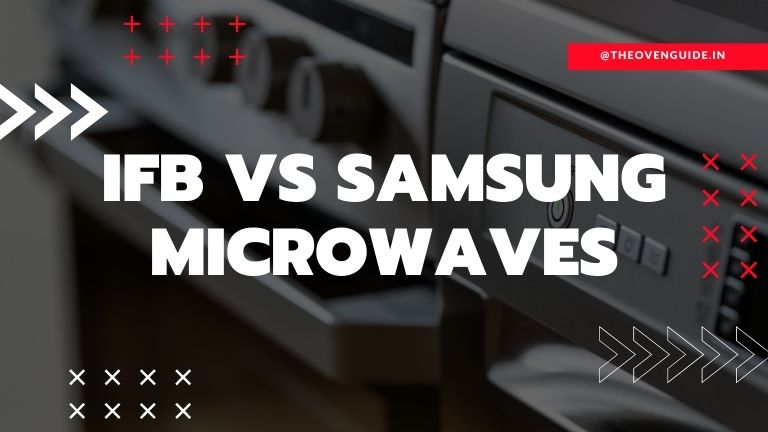 Most of the time people use it for cooking, heating, baking, grilling, and sometimes defrosting too. Before we dig deep to find out which is the best from IFB vs Samsung Microwave, here are a few things I would like you to know.
If you just need to do basic heating and cooking, prefer going with a solo microwave oven. On the other hand, if you want all the abilities of an oven, a convection microwave oven is for you.
Solo ovens cost very cheap as compared to a convection oven. In case you want to go in the middle you can also look out for the grill microwave ovens too.
If you have already done some research you might already know all of this stuff. Now let's discuss for what you came here on this page. IFB vs Samsung Microwave, which one to choose?
We will not only compare the oven of these top-notch brands but also tell you which are the top ovens in each category for both of these brands.
What are you waiting for? Let's get straight into it.
IFB vs Samsung Microwave Oven - Detailed Analysis
IFB and Samsung both come under the best microwave oven brands in India. Both of these companies have a variety of products in the oven category.
From, solo microwaves, grill microwaves to even convection microwave ovens. You can choose from various options just in these two brand options. Even in the OTG segment, there are a couple of good models developed by these brands.
If you're looking for solo microwave ovens, Samsung MS23F301TAK/TL will be a good go choice for you as it has a wider capacity range and will definitely suit your budget too. It has all the solo microwave features which you will ever need.
For convection microwaves, do not think much and go for the IFB 30BRC2 Convection Microwave Oven. It is the highest-selling convection microwave oven ever in the Indian Market.
No doubt, it is so popular because of its wider features compiled into one single machine. You can read our detailed review of IFB 30BRC2 to know more about it.
Also, before you get into your research and get confused between it's another variant IFB 30FRC2. Here is a detailed comparison between 30BRC2 and 30FRC2.
In short, these are the two best options from solo to convection ovens. If you are in a hurry, you are good to go with just this. But now you can follow along to get more deep into the topic.
Okay so now you know about the top models of both of these brands you can choose for yourself if you want to buy one. But still, there are plenty of things you need to know.
You can follow these rules, not just for microwave ovens, but if you're looking to buy any electrical appliance, you can read about it here in our detailed microwave oven buying guide.
Now it's time to dive in and find out which microwave is better IFB or Samsung.
IFB vs Samsung Microwave - Brand Overview
Indian Fine Blanks is an Indian appliances manufacturing company which was started in the year 1974. After a few decades, they rolled out their models in the home appliance sector too.
They have a wide variety of electronic appliances for Indian consumers. From washing machines, chimneys, and a lot more. Currently, they rule the Indian Market for the microwave ovens category.
On the other hand, Samsung is another very reputed electronics and appliance brand that began in 1938. But they entered the electronics segment in 1969. During the early smartphone craze in India, Samsung became very popular for its android smartphones.
Not just that, most of us are already aware of how reputed and popular this brand is. We all have already used at least one of their products or services in our lifetime.
Maybe you owned a Samsung phone or a washing machine. Even if not, you just can not deny the fact that you are aware of Samsung already.
Slowly and steadily both of these brands began pushing out and focusing Indian market for consumer electronics. Right now, if we talk about microwave ovens, both of these brands are the best affordable options.
Their appliances are filled with a lot of useful features and the overall quality of the appliance remains at the top. If thousands of people are already using their microwave ovens at home, you can trust them too.
So this was a short summary of the history of both IFB and Samsung. Now that you know these are the best brands for microwave ovens, which ovens should you go with?
Samsung and IFB both have a wide range of different ovens for different consumers with different useful features made for different purposes. The question is which one should you go with? What features should you look for in it?
Well, we already covered two of the best options for solo and convection microwave at the beginning of the article. Those ovens can stay on your priority list but later in the article, we will also discuss some other best-selling IFB and Samsung Microwave ovens too.
For now, let's compare IFB vs Samsung Microwaves on the basis of their price, technology, and the features they offer. Both of the brands are amazing in terms of reliability but still, you can compare what features they provide you in their different price segments. Let's dive in!
Features in IFB and Samsung Microwave Ovens
IFB and Samsung both offer various useful features at very affordable pricing to us. Both the brands use modern technology to develop new and special features inside a microwave oven.
Earlier a microwave was just limited to cooking, heating, or baking sometimes. Nowadays, you can do all that stuff from cooking & heating to grilling, baking & defrosting too.
On the basis of their top microwave oven models, here we are about to discuss what are the different features & technologies that we get to see in IFB and Samsung Microwave Ovens.
IFB always keeps experimenting with new technologies to make their appliances more better and reliable for the consumers. Here are the top features and technologies coming in IFB ovens that I'd like you to know.
IFB is very famous for its highly reliable auto cooking functionality. With just one click of a button, you can prepare almost any dish at your home.  This not only saves your headache but your time, energy and lets you handle your other household work simultaneously.
Steam Clean technology is another very useful feature that is available in most of the IFB microwave ovens. What it does is that after your food is cooked, it automatically steams the interior so that the leftovers can be easily ripped off.
This really makes the overall cleaning process very smooth. You can also look at our step by step guide about how to clean a microwave from the inside.
Keep Warm as the name itself tells it keeps your food warm at a certain temperature. Reheating food is another thing. But in case you want to revert your food fresh and alive with the original taste when you cooked in the morning, you can do that with the Keep Warm feature.
4. Combination Technology
With the latest combination modes, you can try experimenting with different modes of the oven. In the latest IFB convection microwave ovens like the IFB 30BRC2, you can see combination technology to combine two or more different functions.
For example, you can use both grill and convection mode combined to cook more conveniently. In the 30BRC2 Model, there are 6 different modes to try. You can read our detailed 30BRC2 review to know more.
Samsung on the other hand is also very futuristic with technologies in their appliances. Talking about microwave ovens, they have experimented with very unique features in their models. Here is what I'm talking about.
Slim Fry technology lets you cook food with almost no oil. If you take extra care of your health, you already know how important it is for us to avoid eating oily food. But at the same time, you can't deny the fact that eating crispy and tasty food is also a craving.
Slim Fry technology in the latest Samsung convection microwave ovens like the Samsung CE1041DSB/TL lets you cook food with very little oil. You can read our Samsung 28 L Convection Oven review to know more about it.
Ceramic Interiors are very easy to clean as compared to steel. You'll not face any issue with the built quality of Samsung models because they are rust-free and as well as have more durability.
While most of the brands focus on stainless steel and other built materials for their interiors, Samsung has come up with ceramic interiors that are more reliable and convenient for daily use.
The Tandoor Feature basically converts your microwave into an electrical tandoor. Once you enable the feature, now it can go up to even 200 degrees celsius. It can cook dishes and rotis just like a tandoor. It also fastens the cooking process as the temperature is extremely high.
This feature works perfectly fine and you'll love it if you love eating tandoori chicken, tandoori roti, and other tandoori items. It is just amazing if a microwave has this ability.
The eco-friendly mode lets you save energy consumption of your device. Consumers claim that it saves energy and as well as does not have any effect on the quality of the food. If you stay cautious around electricity bills, the eco-friendly mode can be a blessing for you.
These are the top features available in the latest IFB and Samsung microwave ovens. Now please note that this was just a popular feature comparison.
A lot of features are commonly available in both of these brands. Child lock, auto-cook menus are commonly available in a decent microwave oven. Also, a lot of IFB ovens have these features as in Samsung models and vice-versa.
IFB and Samsung Microwave - Which models to Buy?
Both IFB and Samsung have a lot of options to buy from. You might be still in doubt about which microwave oven should you buy, right?
Well, we'll not go much in detail but here are the best selling and recommended microwave ovens of both of these brands that you can go for. You can definitely read detailed reviews on our website for more info about these ovens.
As told at the beginning, for solo microwave ovens, you can go with the Samsung MS23F301TAK/TL model. For grill microwave ovens, we recommend you to read this guide.
For convection microwave ovens you have the two best options from both the brands that are IFB 30BRC2 and Samsung CE1041DSB2/TL.
Again, consider reading 30BRC2 and 30FRC2 comparisons on our website so you don't get confused in those two.
IFB and Samsung both of the brands are the best in terms of overall quality and servicing of appliances. If you are still reading, you now might have a better vision to compare ovens of both of these brands.
Lastly, what I'd say is Samsung is more convenient in terms of after buying servicing as their customer support and warranty services are really better as compared to the IFB ones.
But IFB is also very dynamic with the technologies and their products are very reliable. You can trust their appliances and you'll not really face major issues in your first couple of years with their ovens.
It's your personal opinion to choose the brand you should opt for. For both of these brands, we have also recommended to you their top and best-selling models. But if you want really good after buying services, you can go with the Samsung models.
Else, the truth is IFB is still leading with their microwave ovens in India. IFB 30BRC2 is the best affordable choice to go with for most of our Indian homes. 
I hope I made it clear for you to choose the best from IFB vs Samsung Microwave Ovens. If you have any questions left, please let us know by leaving a comment below. For more informational content, subscribe to our notifications.