For every beginner, it really gets difficult to choose the correct oven. Like really, when you don't have any prior knowledge, you can make the wrong choices. I know you are confused between a convection oven vs OTG for baking.
Not every oven out there in the market is built for good baking. Yeah, luckily you may get a good baking oven, but it's not a bad idea to do research right?
It's good to see you here reading this article. When people like you are really curious to learn about the art of baking and ovens, we feel motivated to push out more informative content. 
By the way, in case you're interested, make sure to read our list of best ovens for baking. Also, here we have reviewed all the best convection microwave ovens in India 2021. Hope it will help you enhance your knowledge about baking even more.
Well, let's not waste more time here and there. If you are curious to purchase an oven for baking especially. You got to choose from two options. Either a Convection Oven vs OTG Oven.
3 Reasons Why OTGs are Best for Baking - Convection vs OTG
Convection Ovens are built for home uses, so if you are looking for a good microwave that has all the latest advanced automatic technologies, you must go with it. They are easy to learn and can be a helping hand in the kitchen for your wife.
But when it comes to baking, OTG Ovens are the best. Unfortunately, these are not easy to learn. They do not have automatic controls, you need to invest in learning the proper manual control system.
But once you get used to it, trust me you can bake anything like a pro. Also, they are specially built for baking shops, restaurants, and professional bakers to bake cakes, pastries, cookies & other stuff. OTGs are efficient, faster, and loved by professionals.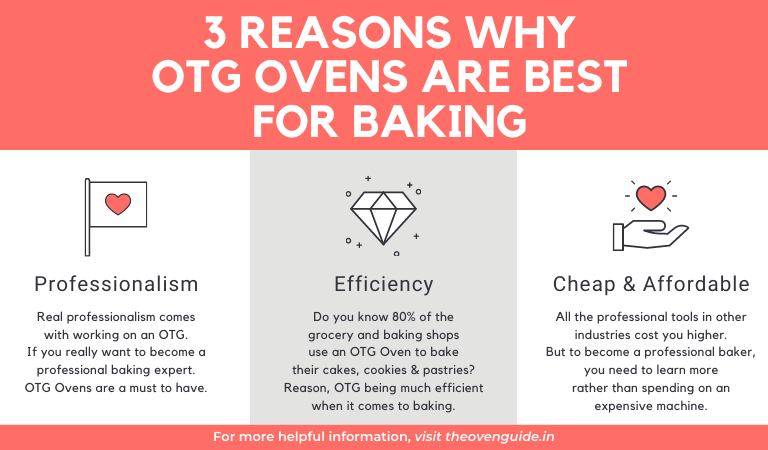 Always remember, baking professionalism comes with experience in working with OTGs. As more you go and try different tips & tricks built by professionals, you get more experienced and professional in baking.
If you're really confused between convection oven vs otg for baking, let's make it very simple. Here are the 3 major reasons why OTGs are best for baking.
Every professional chef out there prefers using an OTG for baking. Whether it be cakes, cookies, or anything. For every sort of professional baking, OTG Ovens are used.
There are solid reasons behind it. A regular microwave oven has a lot of its advantages in itself. There are a lot of convection ovens that are too excellent in terms of baking. But, OTGs are still preferred by experts in the market.
For home kitchens, you can get convection if you want a modern fancy-looking oven with all the features. But for grocery shops, bakeries, and any type of professional commercial work, prefer investing in an OTG Oven.
No doubt OTG Ovens are much more efficient in baking as compared to other technologies. OTG is an abbreviation for 'Oven Toaster Grill'. You get three benefits inside your one appliance.
It is excellent in baking as you get full manual controls over the things. You decide at what temperature you need the oven to bake your cakes. You have to take care of all the processes while using an OTG Oven.
Unlike convection microwaves, there are no automatic pre-installed recipe buttons to cook your dishes at a single tap. Not just baking, but for cooking, heating, toasting, & grilling. For every sort of your shop needs, an OTG is a must-have appliance.
By reading this, you might already start doubting. How can it be cheap if it's such a professional baking tool? Well, it is. Let me answer your why & how.
All the modern convection ovens come up with advanced features. That is the main reason why they are priced higher.
All of the beginners who actually don't know about baking and cooking with ovens. They prefer choosing a convection oven.
But a professional baker is the one who knows A to Z about the OTG. As OTG Ovens do not have those advanced features like auto-cooking, they tend to have a minimum suitable price.
If you're a bakery owner, you can easily afford an OTG. Just make sure you have a professional team member at the back end to operate it. 
OTGs are always the best choice for shop owners. As they generally have a larger capacity so to bake more fastly and serve more people. If you're interested to grab more knowledge about OTG ovens, you can click here.
After all, Baking is an Art. It takes a tremendous amount of time & effort to become a good baker. Good baking comes from experience & knowledge. But to gain that one needs a good tool.
No doubt, OTG Oven is the best oven for baking. Yes as already said, a bunch of convection ovens is also available in the market which can do a pretty good job for your household baking. 
But but but, to become a professional baking expert, you must invest in a Good OTG oven. Even professional baking experts have written in their famous books, OTGs are the real king in baking.
I hope it's now crystal clear to you to choose from a convection oven vs OTG for baking. See you soon in our next post!