If you have recently purchased a microwave, huge congrats to you. You are from one of those few Indian families who consider microwave ovens as an essential cooking appliance.
In case you don't own one but are planning to buy a new microwave, make sure you go through our comprehensive review guide on the best microwave ovens in India.
Or if you were already having one but now rethinking the placement of the microwave then this article is for you too. Because today we are about to have a discussion on where to place a microwave inside Kitchen.
The majority of people do not even study how to place a microwave in the kitchen. They just randomly give it some space inside their kitchen.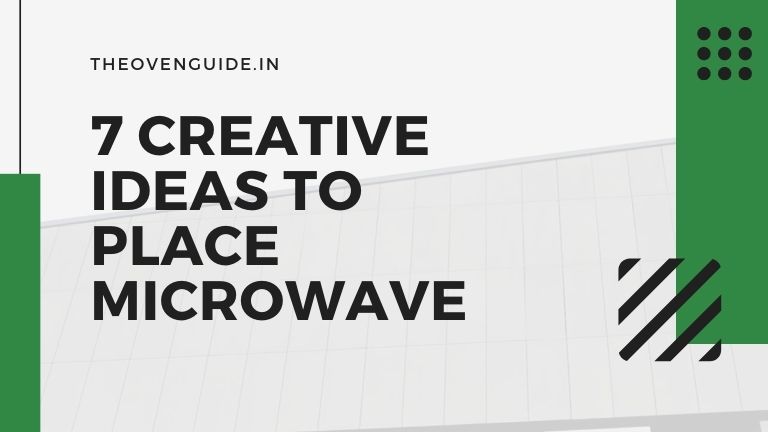 But few like you actually research well before deciding it's place. Trust me, this small research is definitely going to feed you juicy fruits in the long run.
What happens is that the people who first procrastinate to do research before allotting their microwave end up calling customer support for oven servicing very soon.
7 Creative Ideas to Place a Microwave inside Kitchen
A microwave oven is not any random electronic device that you can put anywhere you want. Whether it is about cleaning a microwave, placing it, or anything else. If you do not take care of it, you're going to face problems very soon.
Well, we talked a lot about how important it is to research the placing of a microwave oven. Now let's dive into the main topic and check out where a microwave should be placed in a kitchen.
If you have a very small kitchen, over the range placement is the correct choice for you. Consider getting an over the range microwave oven as it does not take away any of your space, the microwave can easily fit in exactly above your stove area.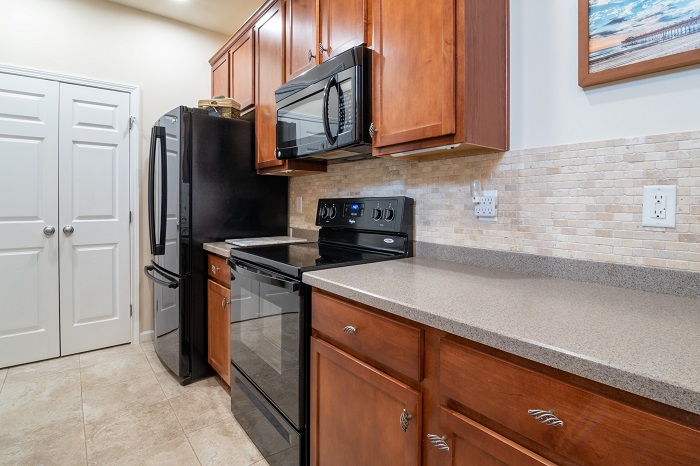 An OTR microwave oven can be a bit expensive investment but it's really worth it. It looks very neat in the kitchen. It does save up huge space in the kitchen and at the end gives an astonishing new look to your kitchen.
In case Over the Range is out of your budget. You still have an option left. Most of the kitchens these days have a shelf kind of cabinets to place your cooking essentials.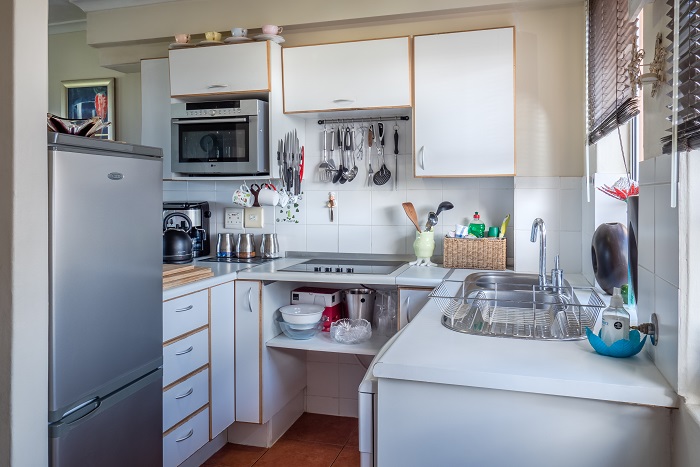 Try to allow some space for your microwave oven there. If it fits correctly over there, super congrats to you for this wonderful achievement. This takes no extra space, looks astonishing, and cost-friendly too.
If you do not have a shelf, you can get one built according to the size of your oven. It is a much cheaper and simultaneously a premium option for people with a low budget.
A lot of people find it hard to reach the above shelf every time while using your microwave. If you are one of them, you can do the opposite of that.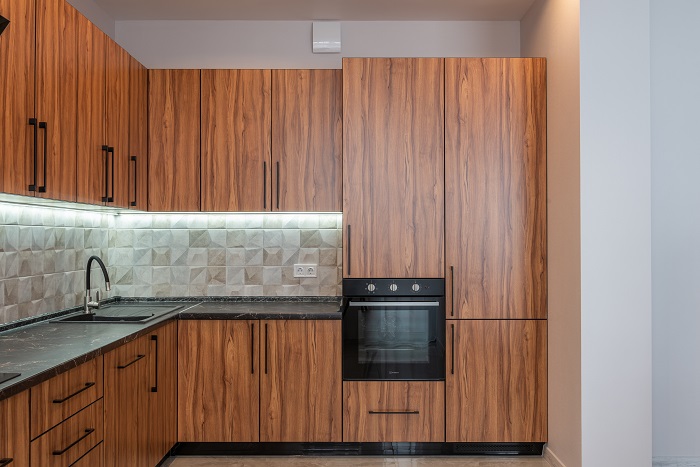 Lower shelf microwave placement is a new trend in India. You can contact your kitchen designer to make some space below your kitchen slap and have your oven installed there.
It is again a very cheap and luxury choice. This costs a few bucks more but looks better than placing your oven directly over the slap of your kitchen.
One more trick to place your microwave oven by taking no extra space in the kitchen. Just inside your lower kitchen cabinet, you can get your oven installed.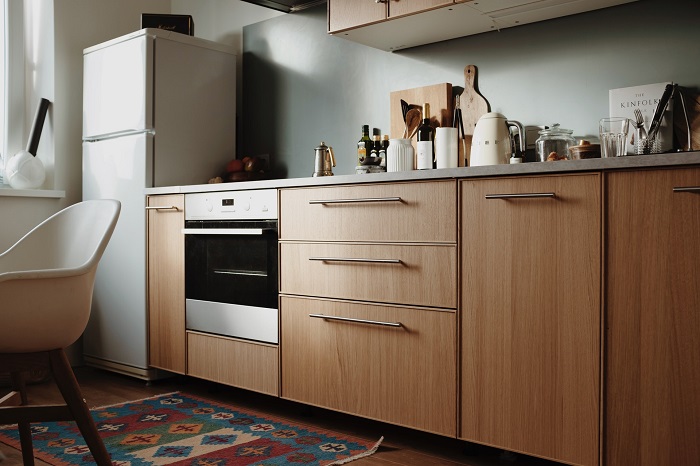 You don't even need to hire an expert to make proper alignment and redesign the cabinet. You can just place it over one of any slaps inside your cabinet. It is a free option to play hide and seek with your microwave oven.
Just open the cabinet doors and use your oven as regular. It is a very popular and excellent choice to place your microwave oven if you do not wish to spend money.
If you are looking for a cost-effective way to place your oven and as well as make it look premium, this is for you. You can get a dedicated wooden shelf and attach it to the wall of your kitchen.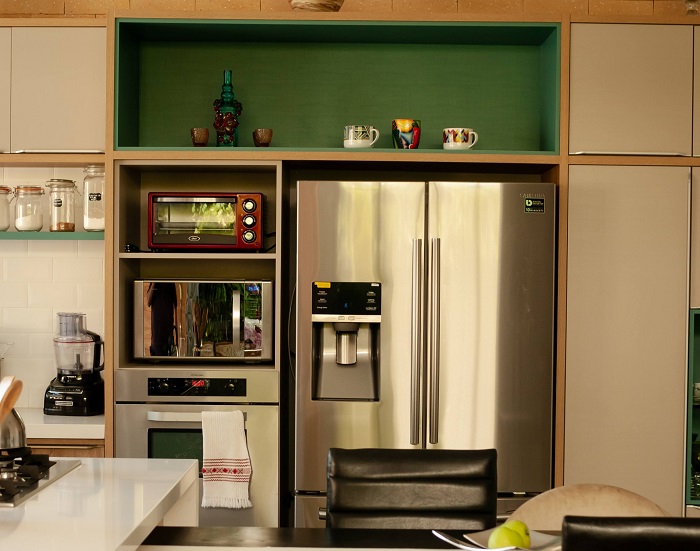 Try to give it some sort of matching design with your existing kitchen. This idea works perfectly for small and big kitchens with empty space on the walls. You can hire any designer to unlock some more ideas and get your dedicated shelf built.
It will cost you just a few bucks and it really gives a very luxurious feel to the kitchen. Keep in mind, the power spot is very near to the shelf so you don't panic after the shelf is installed.
A lot of kitchens these days are already filled up with a lot of cooking appliances. If you do not have any extra space inside your kitchen and can't afford any of the above choices, this is a perfect choice for you.
You can place your microwave oven safely over the top of your refrigerator. Often we forget about using the refrigerator space, but using it to place your oven is a brilliant choice.
But this works perfectly for kitchens with a small height refrigerator. For taller ones, we personally do not recommend you to do so. But it's your personal preference, if it fits fine for you, don't leave that, make use of that extra space.
There is nothing bad about being normal. If you can not afford any of these luxury microwave placement ideas, go with the most popular and normal one.
Placing your microwave directly on the counter is a good choice for kitchens with normal design and no extra space. But while doing so you need to take care of a few things.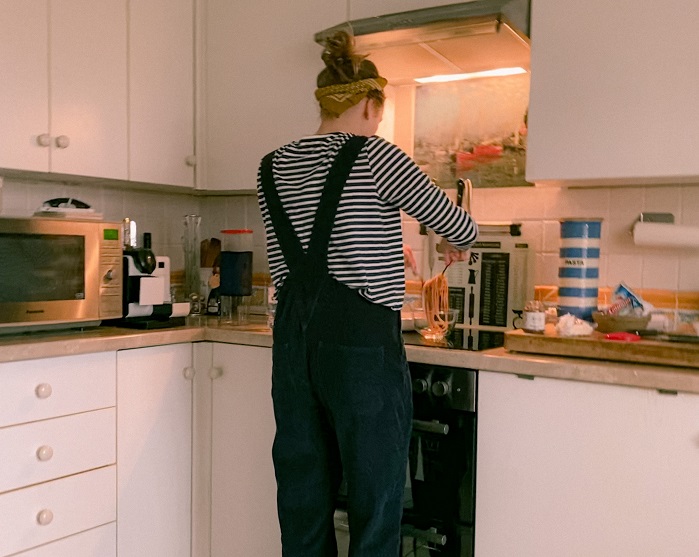 Keep in mind, your microwave should not be placed near the stove nor the sink. Keep it away from external heat sources like your stove.
It is very important which will help your oven get those extra few years before their first servicing. Also, keep it away from the sink so that it does not continuously get wet while you wash your utensils. Else, there is nothing bad with placing it on the kitchen counter.
In fact, placing a microwave directly on the counter is the best choice especially for small kitchens. The majority of small kitchens in India prefer to place microwave oven over the counter itself.
Kitchen Interiors are a very crucial part of your house. If you do care about the design of your home, do not spoil it by placing your oven randomly inside the kitchen.
Kitchen interiors are the core of a beautiful home. That is why where to put a microwave oven is important to not spoil your kitchen's look.
These were our Top 7 Ideas to place a microwave inside the Kitchen. Let us know which one did you liked the most? Do you also have any other ideas in your mind? Drop it in the comments section, we'd love to hear from you. For more oven related stories, subscribe to us.