Are you deciding to invest in a microwave oven but are researching a bit before finally making the purchase? I know that's why you are curious here to read the microwave oven uses and functions.
Microwave Ovens have evolved a lot these days. Gone those days when ovens had only the capabilities to bake cakes and cookies. Just like clothing fashion has evolved, cooking science has also evolved.
If you step inside a bakery, with cakes & cookies, you can also see various new things being baked or cooked inside an oven. Maybe you can name some of them, but I'm damn sure you can't just name all of them.
Each and every day with the growing world, everything is growing. Yes, the science behind cooking, baking, and microwave oven is also growing. That is the reason why we are here today to discuss the modern microwave oven uses and functions.
Microwave Oven Uses and Functions
A microwave oven works on heating radiations which directly heats the food placed inside the oven. It is very quick if compared with traditional oven cooking methods. Not just cooking, you can also defrost your refrigerated food items quickly in a couple of minutes with the help of a microwave oven.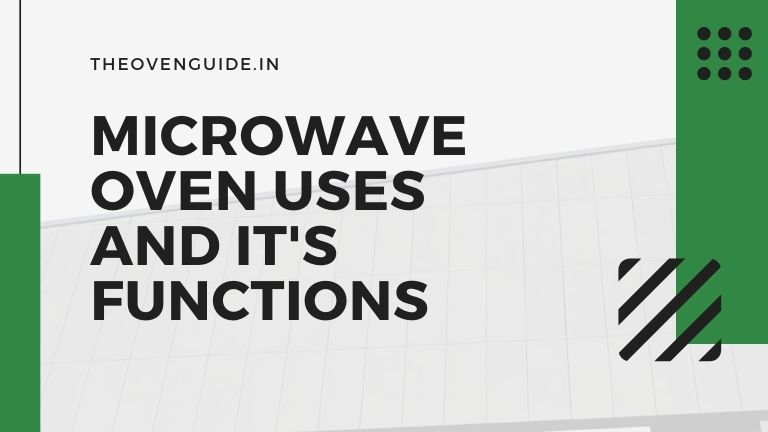 A modern microwave oven can be used for various kitchen purposes like cooking, heating, baking, defrosting, re-heating, and grilling. But most importantly, it is used to bake cakes and roast non-veg items. 
If you are a husband reading this, gifting a microwave oven to your wife is going to make her a lot happy and give one more reason to love you harder.
To make your confusion clearer, we have compiled here the list of the best convection ovens in 2021. Now, let's get to the topic again and discuss microwave oven uses and functions.
Back in time, when traditional ovens were in the first place. People used it to normally heat & cook food or even bake sometimes.
But these days, microwave ovens come with a lot of automated functions to make your life a lot easier. Before discussing those functions, let us discuss the uses of a microwave oven.
Cooking still happens on the stoves but those themselves have turned electrical these days. But with the stove, if you have a microwave oven at home, it can help you cook multiple dishes simultaneously and save a lot of your time in the kitchen.
You can cook almost every other dish that you can cook on a stove. Also, with the latest microwave ovens, you can also prepare delicious rotis inside of them.
A microwave oven can be used to bake cakes, cookies, pastries, and even pizzas. A lot of small bakery owners these days have a convection oven for their baking purposes. But professionals know, baking is something that is perfectly done on an OTG.
You can read this detailed article to know why OTGs are best for baking. Or if you're someone who sometimes wants to experiment with new recipes at home, check out this article about the best ovens for baking cakes at home.
Grilling sandwiches and roasting chicken tikkas is now possible at home with the help of a microwave oven. You no longer need a barbeque set-up to grill and roast your desired dishes. 
The latest microwave ovens come with the capability to grill your desired food items. Also, the 360-degree rotisserie function can be used to roast perfect chicken tikkas and other non-veg recipes at your home.
Functions of a Microwave Oven
These days microwave ovens come with a lot of useful features and functions. Some of them are very common as found in every other model. For example automatic timer, touch control, etc.
But a lot of microwaves these days actually come with very automated technologies. Here are the three useful functions you must look for while purchasing a microwave oven.
A lot of microwave ovens come with pre-installed auto-cooking recipes. This function really is a very helpful feature ever built for cooking. There are hundreds of installed recipes inside your oven. 
You just need to choose your desired dish from the menu and its automatic feature will start analyzing the time and heat required to cook your dish according to the weight of the item you entered.
This might sound a bit confusing here, but it is really very easy to use and comes in very handy in the kitchen. What you have to take care of is, choose the recipe carefully and enter the food weight properly.
A lot of times we keep our food inside the refrigerator to prevent it from rotting. But it feels really lazy to re-heat the food. Even after reheating, it is still not defrosted properly.
With the latest quick-defrosting technology, you can easily defrost your frozen and refrigerated food to match its original taste and warmth. This function is really a very useful one in day to day life.
Have you ever wondered to cook delicious barbeque recipes in the comfort of your home? I know you have dreamt of it, now it is possible with the help of a microwave oven. The rotisserie function allows you to cook delicious and crispy chicken tikka, mutton, & kebabs.
Rotisserie is basically a small rod installed inside the convection microwave oven which keeps rotating inside the oven so your meat gets cooked properly from all the sides. This saves you a lot of time so you don't have to take care of it manually.
With the growing technology, microwave ovens are also becoming very automated to make your life easier. Just like our modern smartphones. Microwave ovens have also become very smart.
A lot of useful features and functions are still under development and will be seen in the upcoming models by the various brands. What do you think? Which is the most important and useful function of a microwave oven for you?
Have you any other useful function in mind which is still not available in the current ovens? Let us know in the comment section. This was our guide to help you understand the microwave oven uses and functions. See you in the next post!